Surf & Yoga Retreat
October 10th – 17th 2020
Join Loving Surf this fall and reconnect in the beautiful & peaceful countryside of Essaouira, Morocco. Our 7 day Surf and Yoga Retreat offers an intimate experience combining daily surf and yoga sessions with the experts. Escape to Loving Surf House, a private villa with pool and garden, a rooftop terrace offering views across the argan trees and a ambient sunset to finish the day. Eat healthy each day to energize your body before hitting the waves for your surf lessons and stretching out with yoga sessions lead by experienced instructors. Our team will make sure you have the full Loving Surf Experience.

Surf & Yoga Camps in Essaouira, Morocco
Although you can join us anytime of year to learn to surf and relax post lesson with yoga classes on the beach, this retreat offers a daily itinerary with a set program to maximize your surf progression and yoga relaxation exclusive to the Loving Surf House.
Package starts at 690 Euros per person for a single bed in our dorm room (4 beds maximum). Space is limited so book early!
Basic Package includes:
7 night stay at Loving Surf House in dorm room
Daily Yoga Sessions
7 days of Group Surf Lessons
Daily healthy breakfast and dinners
Round Trip Transport to/from Essaouira Airport
Daily Shuttle to/from Loving Surf House/Surf Lessons
Private Pool and Rooftop Sunsets
Upgrade to Private Room for 770 Euros.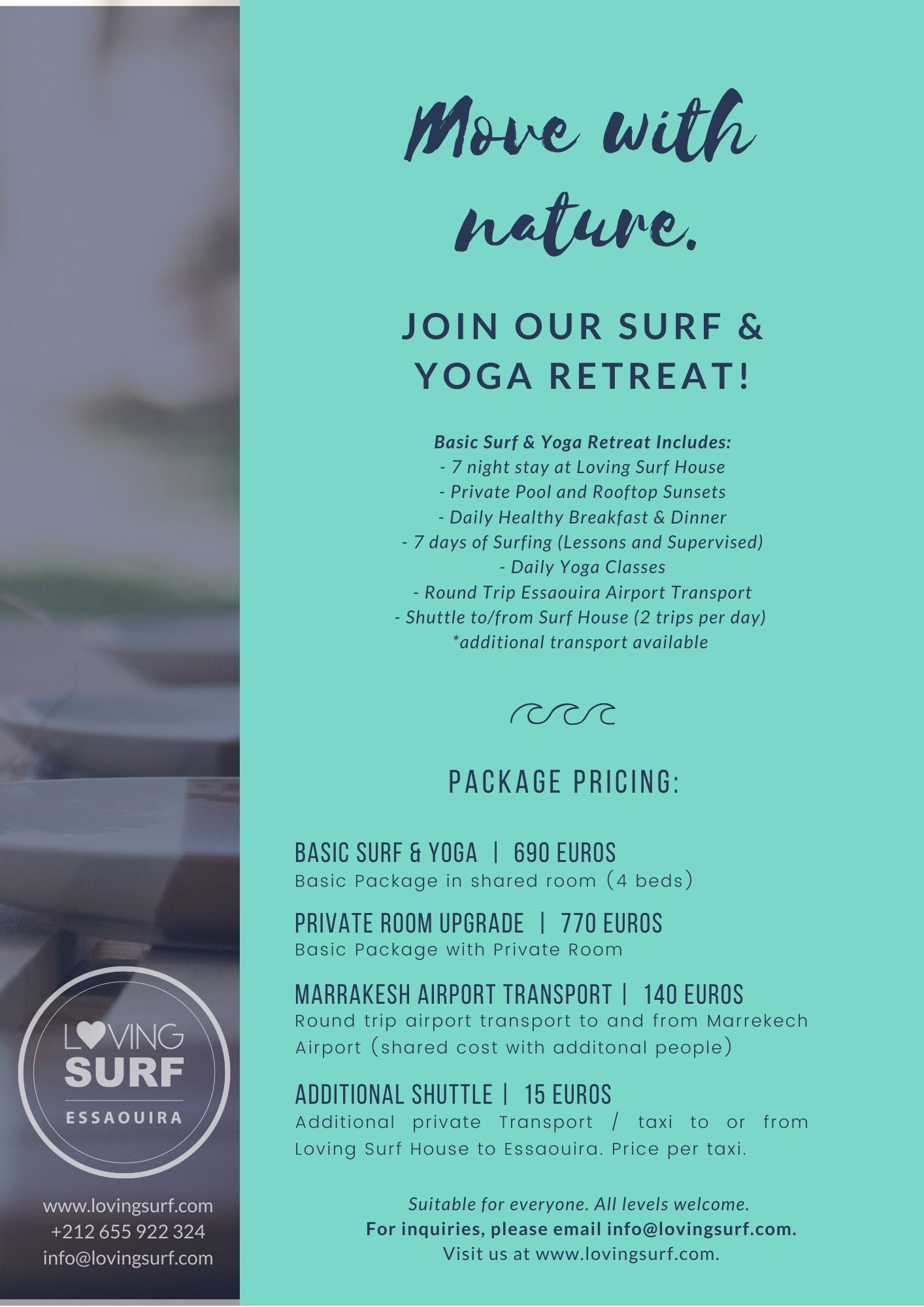 Not able to join us for those dates? We offer surf and yoga packages all year round! Email us direct for more details and book your surf and yoga holiday packages!
Interested in kitesurfing? We offer kite camps as well, or plan a duo pack and try both!
Book your Surf & Yoga Retreat, Dates: October 10th-17th 2020. Email info@lovingsurf.com