Why should you take a surf lesson?
First of all, you may think why pay for a surf lesson, it looks easy. Just push and stand up right? Sure, you save a bit of money by renting a surfboard and going out on your own, and you might even stand up. But here's the thing, you spend all day in the water and in the end you lost so much energy and time, that you actually could have spent surfing and gaining skills. Another problem with this, is it takes a lot more time than if you just invest in a few surf lessons.
Here is what a surf lesson can do for you…
teaches you the basics and theory before even entering the water
teaches you about the equipment, how to handle it and what is best for your surf level
how to pop up properly
how to read the waves
proper stance which enables you to turn
surf etiquette to keep you safe among other surfers
maximize the time in the water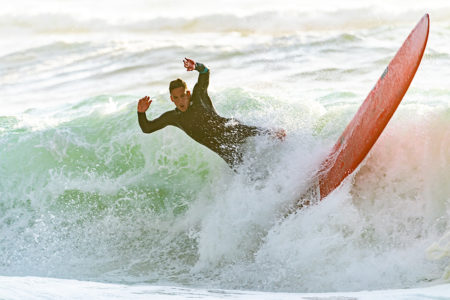 Surfing can be dangerous, taking a surf lesson reduces your risks.
Furthermore, without lessons you can hurt yourself or someone else. So often people take a surf board (and a lot of ego) when they enter the water and don't realize the danger they are putting themselves and other people in. Knowing when to take a wave, where to be to take them successfully and how to avoid injury are all essential requirements in surfing. In a beach break and less crowded waves you don't immediately see the risks. Add more people, harder conditions, and bigger waves the dangers increase, which can result in serious injury, or even death! There are rules to follow in the water.  A few surf lessons will teach you how to stay safe and have fun!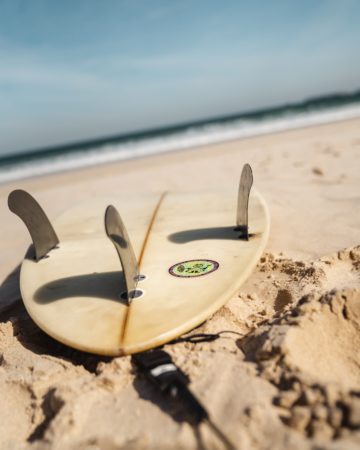 A surf lesson is an investment. 
In addition to your safety, without knowing how to take proper care of surf equipment, you run the risk of damaging the surfboard and end up having to pay for repairs. Not knowing how to handle or use a surfboard can result in damage.  You may not see anything about a damage payment when you rent a board but regardless who you rent from, they are definitely going to charge you if you damage their surfboard or equipment.
There goes that money you saved!
It is also great chance to learn before you invest in your own equipment. By taking a surf lesson you have an experienced surfer at your disposal to ask questions, you get a chance to understand better first hand. As well as knowing how to properly take care of your investment, so you can get the most out of it.
Already surfing but not progressing? A surf lesson can help.
Another point to look at, even if you have surfed before, you have probably built some bad habits, maybe lack style and may not know proper surfing etiquette.  Surf lessons correct bad habits and get you progressing and learning at any level. By having someone who is experienced and certified watching you, you get a personalize critique. This is better than any Youtube video or endless amounts of solo surf sessions.
Choosing the right surf school for your surf lesson…
Finally, you have decided to invest and take lessons. Choosing the right surf school is key to getting the value from your investment. Loving Surf Essaouira has certified instructors with more than 10 years experience instructing. We keep our classes intimate with less students per class and are focused on getting you standing and progressing quickly. With our instructors experience, they know how to keep you safe, help you fully understand the basics and theory before entering the water. They get in the water with you, get you surfing and correct the mistakes you are making. We are passionate about surfing and choose to share that passion with our clients. Regardless, if you are unable to join us at Loving Surf Essaouira, be sure to choose a reputable school with certified instructors.
Most of all, surfing is one of the most rewarding experiences you can have, it is a place to disconnect from daily stress and reconnect with nature and yourself. Not only that, a surf lesson is a sure place to make friends!
Want to learn to surf? Join our surf lessons in Essaouira, Morocco and experience Loving Surf School!
Click here to book your lessons now.