Learn to kitesurf the right way with Loving Surf.
KITESURF COACHING
Learning to kitesurf is an investment. Most think take a kite lesson then hit the waves. But kitesurfing is an extreme sport and should be taken with precaution. Without the training and proper knowledge could put you and others in danger. 
Typically we recommend at least 6 hours before attempting a waterstart level. Progression may vary on conditions and the student's abilities.  It is crucial to understand that part of the learning process is to emphasize all safety procedures and practice them in order to be a safe kiteboarder. Safety protocols are in everyone's best interest and allow the most fun in the water!
We want you to be autonomous and enjoy the wonderful world of kiteboarding with others. Loving Surf coaching methods are based on the International Kiteboarding Organization (IKO) standards, the worldwide authority to train and certify kiteboarders and instructors.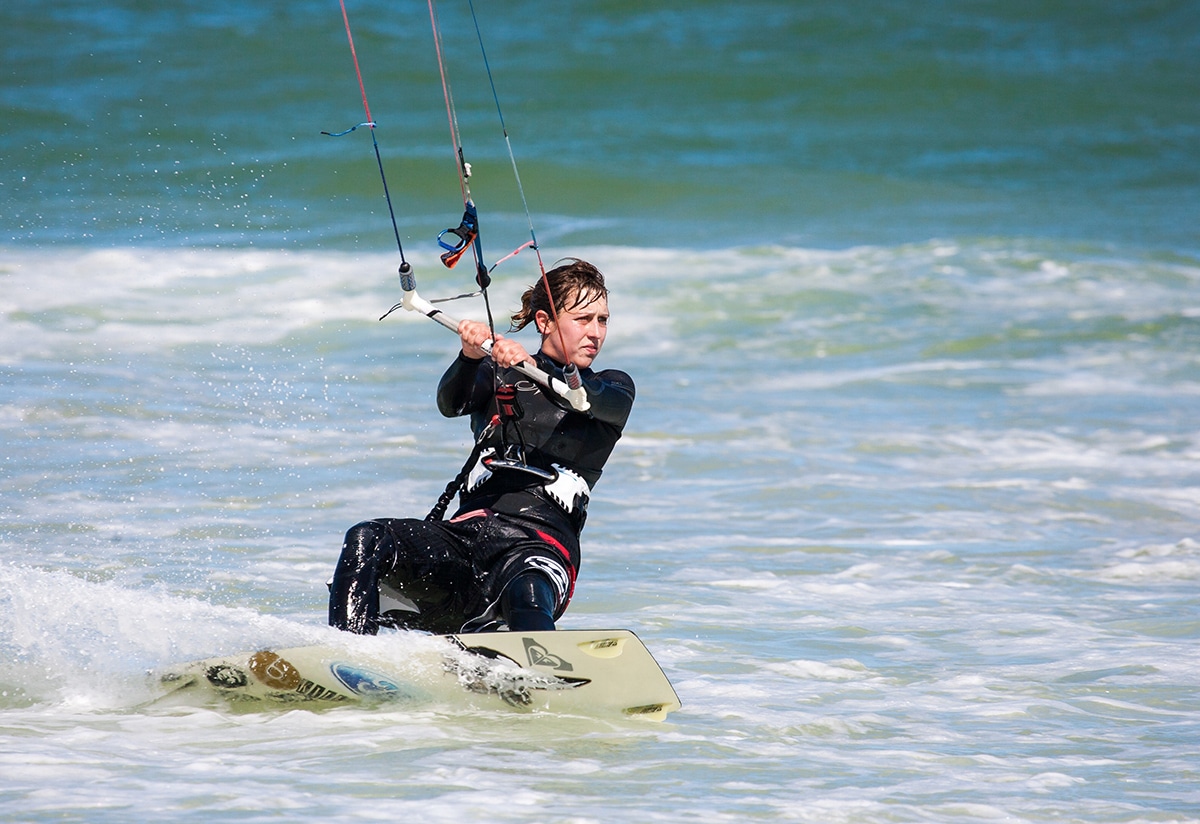 What Kitesurf Level will you reach?
According to IKO standards and our experience, these are approximate levels you can expect to reach:
Discovery IKO Level 1 to 2
(3 – 6 hours)
Kite set-up, safety procedures, kite piloting drills on beach, and water body drag skill
Intermediate IKO Level 2
(6 – 10 hours)
Kite control fully powered, self rescue procedures, board recovery in deep water, water start, going downwind 
Intermediate IKO Level 2 to 3
(10 – 15 hours)
Waterstart in both directions, fully autonomous with kite and safety awareness 
Independent IKO Level 3
(15+ hours)
Consistent riding both directions and beginning to go upwind, going downwind, changing direction, keep position to wind 
Lesson times vary on wind conditions of course and we always choose the best conditions for your skill level and kitesurf progression. Check our Kitesurf Lesson rate here.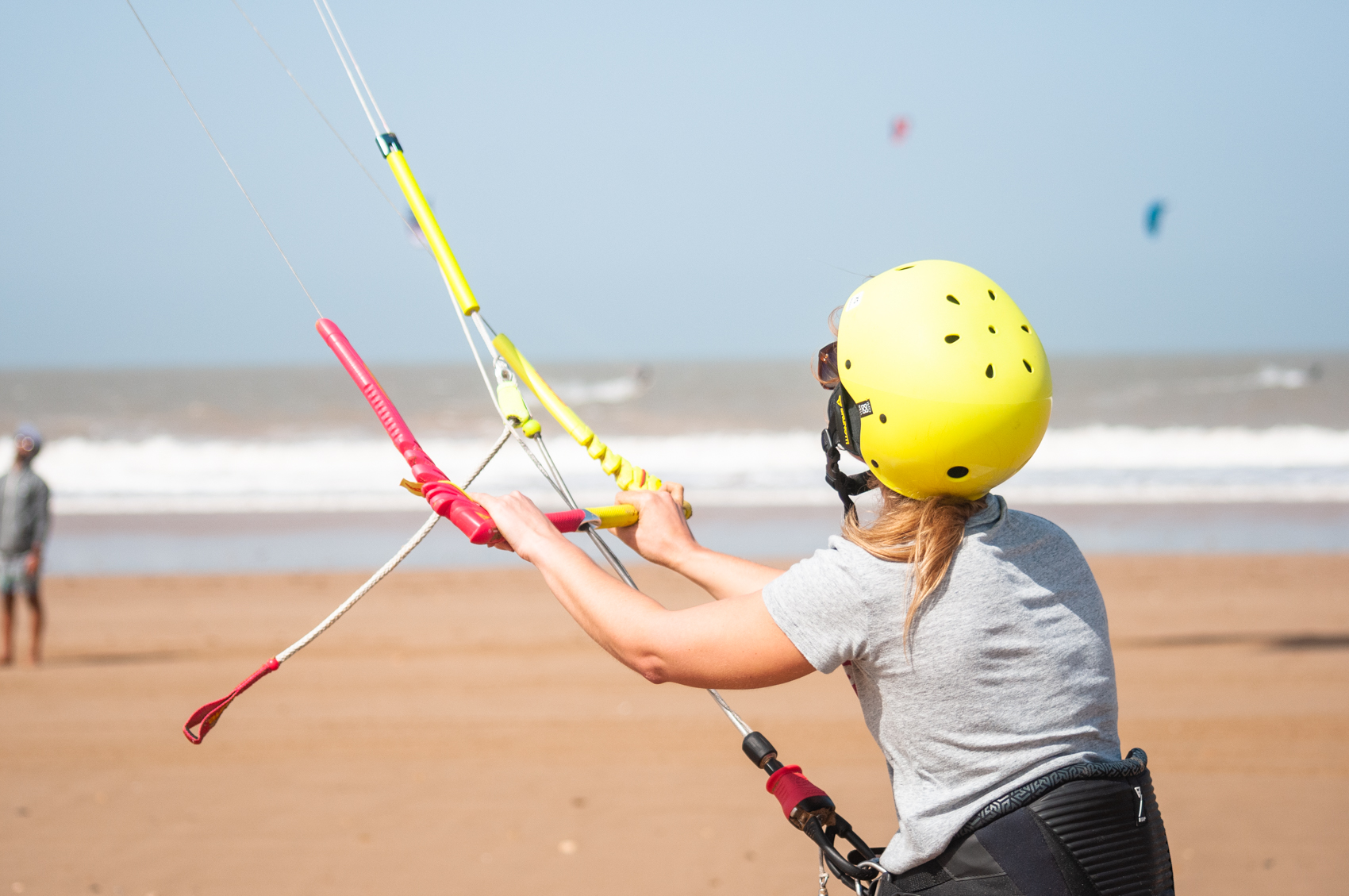 Looking to start your kitesurf journey?
Join us in Essaouira and learn in one of the world's best kitesurfing destination here in Morocco. We offer kite camp packages and lessons only (check our rates here) for those you decide to choose their own accommodation. We also work with local riads and hotels as well as our Loving Surf House, a beautiful oasis outside the city.  Our beautiful and private villa is located between Essaouira and Sidi Kaouki, two perfect kitesurfing spots! It offers a private pool, rooftop terrace, and large garden with a slackline to practice balance and focus outside your lessons.
For more info and photos of Loving Surf House, click the link here.
Find some of our Kite Camp Packages at Loving Surf House below. We also offer custom kitesurf packages, email us direct to plan your ideal kite holidays!
LOVING SURF KITE CAMP PACKAGES
Camp packages include kite lessons, accommodation at Loving Surf House, transport to/from kite lessons and more!
BASIC
KITE CAMP  
Beginner & Intermediate Courses
7 days, 6 nights 
650€ 
Single bed in dorm with shared bath 

Breakfast and dinner daily

10-hour group kite course, includes kite gear and wetsuit

Daily transport to and from session
Click here to book a Basic Kite Camp Package.
PREMIER
KITE CAMP
Beginner & Intermediate Courses
7 days, 6 nights 
775€

Single bed in dorm with shared bath 

Breakfast and dinner daily

10-hour group kite course, includes kite gear & wetsuit

Transport to and from session

Unlimited surf equipment rental*subject to availability
Round Trip Transport to/from Essaouira Airport
3 Yoga Sessions
Photos

Click here to book a Premier Kite Camp Package.
We would love to share the joy of learning to kitesurf with you! Find out what the Loving Surf Experience is all about!
Got more questions?
Email us at info@lovingsurf.com